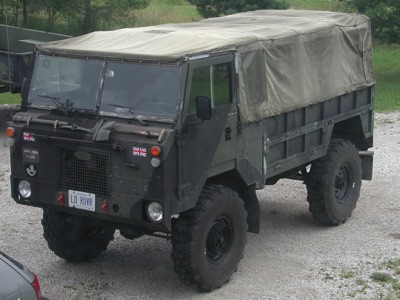 The Land Rover 101 forward control was developed by the British military to meet their needs for a 'gun tractor'. It was designed to tow the L118 Light Gun with a capacity of one tonne for supplies and ammunition. The vehicle was designed for simplicity in all respects. It was easily repaired in the field, had minimal components, was easily transported by air, and best of all it could be air dropped with a parachute attached from the 4 main anchors that were factory installed.
The name of the vehicle came from the 101" wheelbase and the position fo the driver (forward control…over the front axle).
After 3 years of prototypes, it was sent for approval in 1972. Over the next few years, it was mass produced from 1975-1978. Approximately 2700 vehicles were produced. The majority of vehicles were GS models (General Service) and are canvas soft-tops.  Three types of hard body 101's were also produced on stripped GS chassises.  These included the Ambulance (Approx. 300-450), a Radio Body (Approx. 125), and the 'Vampire' Radio Body (Approx. 9-18). 
Technical Specifications:
Electric system: 12 Volt negative earth
Engine:
LPG/Petrol V8
Number of Cylinders: 8
Cylinder capacity: 3528 cc
Bore: 88.90 mm
Stroke: 71.12 mm
Max torque at clutch: 261.9 nm
Net power/gross wt ratio: 38.8 kW/tonne (52 bhp/ton)
Fuel Pump: Electric, in tank
Carburetors: Two Zenith 175 CD 2S
Range of action, road: 545 km (340 miles)
Fuel consumption target road: 20 litres/100 km (14.2 mpg)
Max tractive effort top gear: 1002 n/tonne (229 lb/ton)
Wheel type: Steel, well base
Road Springs: Semi-elliptic taper leaf
Hydraulic dampers: Telescopic, non-adjustable
Dimensions
Overall height: 2500mm
Overall length: 4330mm
Overall width: 2350mm
Ground Clearance: 254mm
Tyre Size: 315/75R16
Tyre Pressure Front: 28 lb/sq in
Tyre Pressure Rear: 35 lb/sq in
Weights - Unladen: 1924kg
Weights - Laden: 3651kg
Transmission: 4 speed manual
Front Differential: Hypoid Bevel, Salisbury 8HS
Front Wheel Drive: Enclosed constant velocity joints
Rear Differential: Fully-floating shafts
Wheelbase: 2565mm (101")
End text